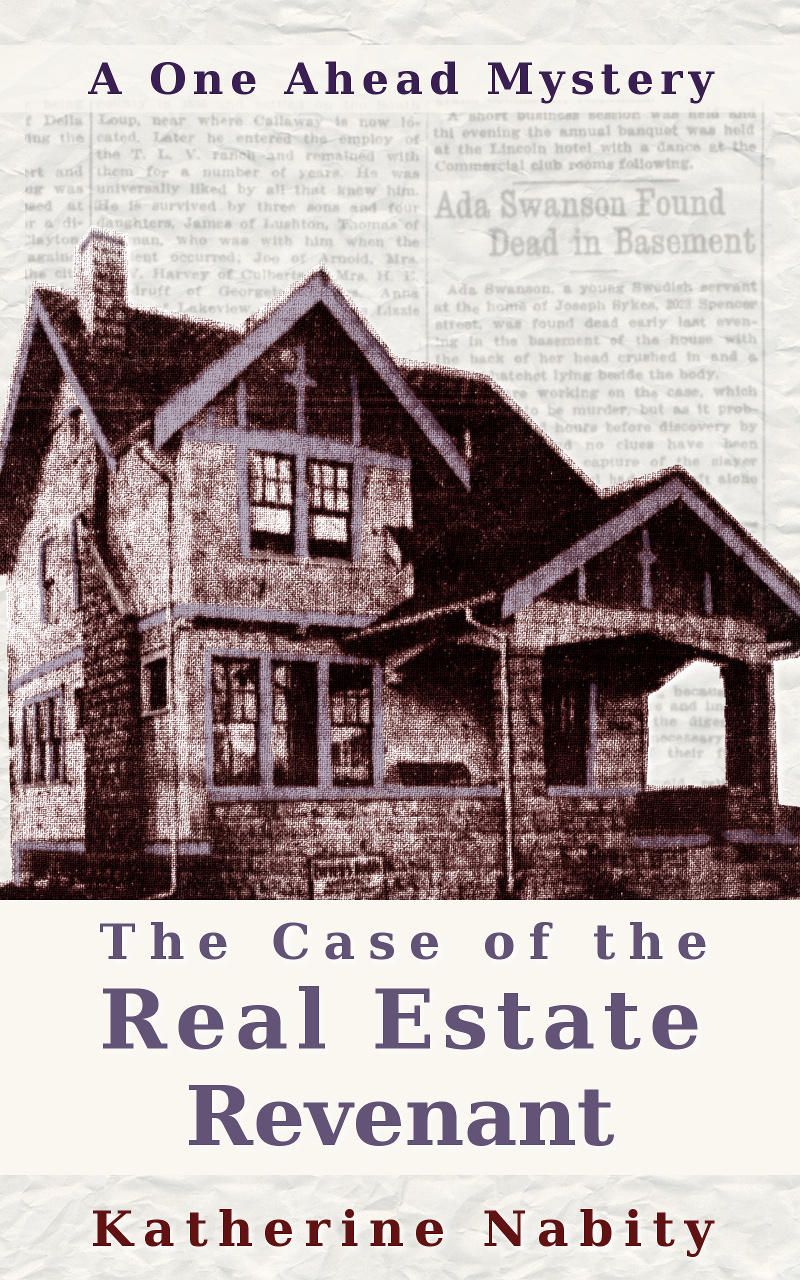 Available from Amazon (Kindle).
One Ahead Mysteries feature David P. Abbott. Aside from being an accomplished magician in early 20th century Omaha, NE, David Abbott was a skeptic and debunker of fraudulent mediums. In "The Case of the Real Estate Revenant," Abbott helps his brother Julian get to the bottom of ghostly rumors plaguing a business venture.
Series: One Ahead #2
Genre: Mystery
Excerpt from The Case of the Real Estate Revenant
(from Chapter 1 – The Maids)
The house was wired for electricity, but when Ann pushed the button on the wall in one of the bedrooms, the light didn't come on. She tried one of the buttons in the hallway, but it had the same non-effect. She didn't try others. By the time she was in the last room on the third floor she wasn't looking forward to walking down any flights of stairs.
Through the hard rain, she could still see Ester and Gillian in the yard below. One of the sheets had torn free of the clothesline and blown into the low branches of a tree. Gillian was jumping to catch the end of it.
"Leave it," she thought she heard Ester shout.
Thunder drowned out the other voice until Ester pulled the shutters closed.
Then, she heard it clearly.
"Ann..."
It came from behind her, near the door of the room.
"Ann... Help me..."
Ann heaved a deep breath and whirled around.
"Ann..."
The doorway was empty, only a rectangle of darkness.
"Help me!" The voice was louder now, hollow, coming from everywhere in the room. "Don't let her hurt me, Ann."
All the stories were true, Ann was sure of it in that moment. There was no way out, but through the door into the hallway beyond, and then the steep, winding servant's staircase. She lunged through the door.
"Ann!"
She intended to turn immediately to her left, fleeing from the shadows of the servant's stairway to the main stairs. But, instead, in the hallway, for an instant, she looked over her shoulder.
At the top of the servant's stairs stood a woman, softly glowing in the gloom of the storm. Before Ann turned away, she saw the woman tumble down the stairs and out of sight.
Ann's own scream was drowned out by that of the dead maid.